The Tehran Times Workshop
21 March 2017
It was a pleasant and a long-term workshop. I have worked with some of trainees for several months on composition, colors and concept related to Tehran Times basics like fashion and lifestyle.
Here you can see some pictures from the last project.
Shiraz Workshop
10 March 2017
It was a 3-day workshop in Shiraz/Iran. Although it was intensive but the process and the result were remarkable. Attendees were energetic and creative, so we had a great experience together.
You can see backstage photos and some of final artworks here.


دوره عكاسي مفهومي با رويكرد پرتره در مدرسه اينورس
27 بهمن
تجربه ای شیرین در کنار هنرجویانم،
با آرزوی موفقیت برای تک تکشون
برای دیدن نمونه کار هنرجویان می تونید به لینک زیر مراجعه کنید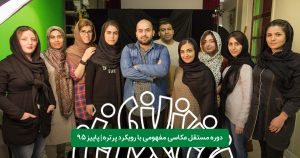 Vogue Experience
30 Jan 2017
By the suggestion of one of my friends I have sent one of my photos for vogue magazine.
The culture has been always a matter of importance for me, so my first photo was about a Qashqai girl in her traditional costume.
The photo was accepted and published in vogue website a few days later.
I hope that we all pay more and more attention to our unique culture.
http://www.vogue.it/photovogue/portfolio/?id=155638
Certificate Of Achievement-London International Creative Competition -LICC 2016
20 Jan 2017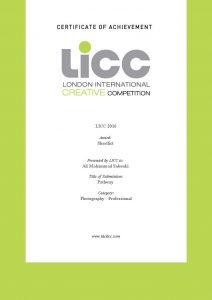 This is an honor to share my experiences with you and the others.
For me the idea of this Photo was the beginning to a new collection named "The Embraces", with a story in beyond to tell.