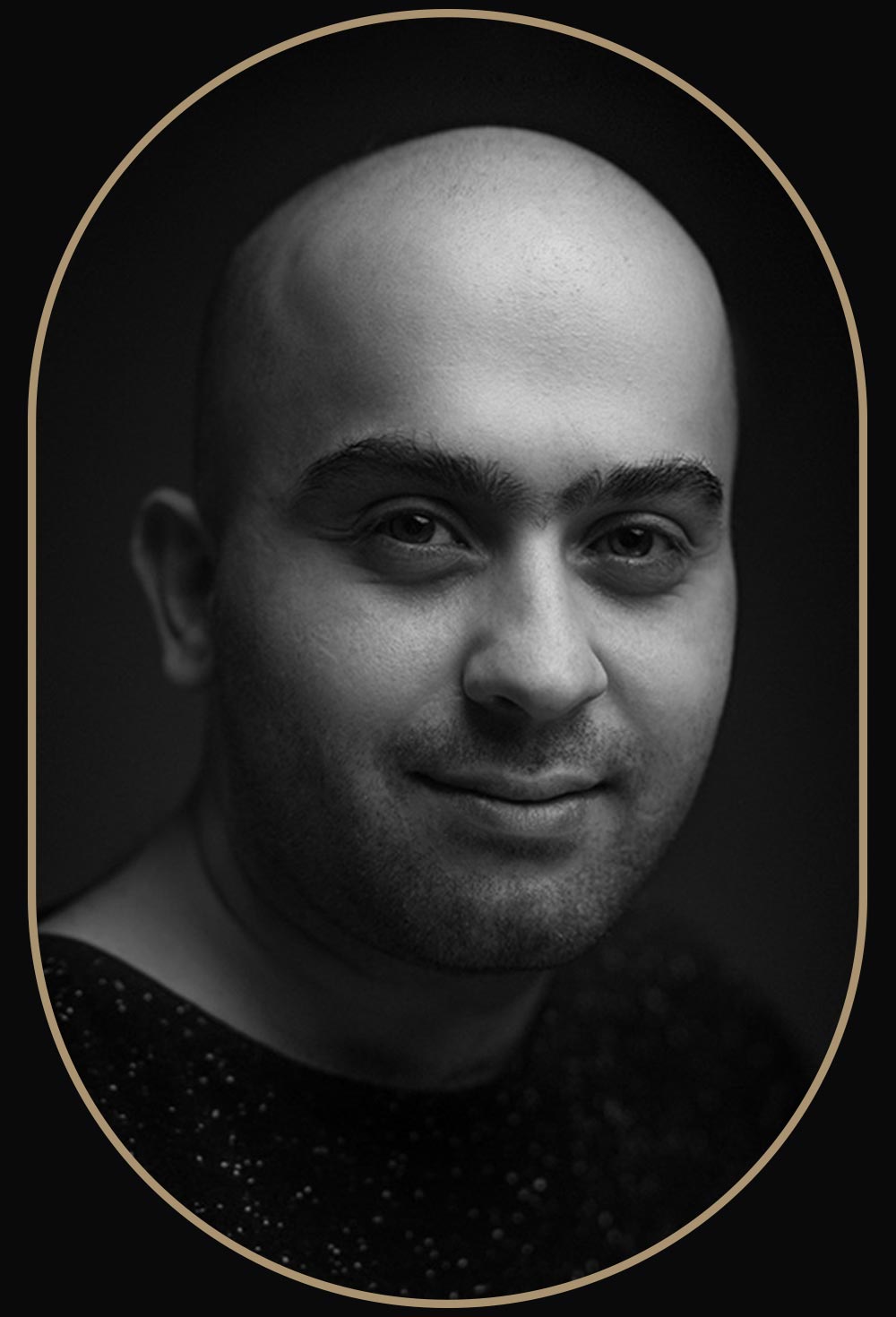 Ali Sabouki, born in Shiraz (1985), currently lives and works in Tehran as an artist. Ali attended the University of Art and Architecture in Tehran to study Scenic Design.
He has since worked across a variety of mediums in theatre and music, to name only a few. Over the last few years, his focus has increasingly gravitated towards photography, portraits in particular.
His haunting portraiture explores the identity and connectedness of the human spirit in isolation; taking stylistic cues from Old Masters while exploring the human condition in modern life.
Solo
"Embraces" Solo Exhibition- GRK Gallery, Paris, France 2019
"Embraces" Solo Exhibition- Etemad Gallery, Tehran, Iran 2018
"Myselves" Solo Exhibition- Seyhoun 2 Gallery, Tehran, Iran 2016
Group
1912 Gallery, Washington DC, USA, 2021
Chester Art Fair, Chester, United Kingdom 2019
Art Olympia, Toshima, Japan 2019
Metropolitan Art Museum, Tokyo, Japan 2019
Honorable Mention award- IPA international photography award – California, USA 2020
Visual Art Open competition Winner – London, UK 2019
Honorable Mention award- IPA international photography award – California, USA 2019
Outstanding performance award- Art Olympia (international open art competition) -Tokyo, Japan
2019
Biafarin Prestiges Award- 11th International Arte Laguna Prize – Venice, Italy 2017
Shortlist -LICC (London International Creative Competition) – London, UK 2016
Photography workshop, Hamras Art Space, Tehran 2019
Photography conceptual portrait course, Inverse School of art and design, Tehran 2016-2018
Photography workshop, Hunam Institute, Isfahan 2017
Photography workshop, Abrang Institute, Shiraz 2017
Editorial, Fashion and Book cover Photography
The Tehran Times Magazine, "Innuendo" Editorial, Tehran, 2020
Araz Fazaeli Collection "Ornament is Crime, and I'm a Criminal", Paris, 2019
Araz Fazaeli Collection "Disco Jalabiya", Paris, 2019
The Tehran Times Magazine, "set the trend, wear Iranian designers" Editorial, Tehran, 2019
Danial Zirak Safavid Alams collection-Jewelry, Tehran, 2019
Pious Fashion: How Muslim Women Dress, cover photo, Harvard press, 2019
The Tehran Times Magazine, "pulling the strings, a Marionette by Araz Fazaeli" Editorial, Tehran,
2018
The Tehran Times Magazine, "vintage and new age designs", Tehran, 2017